Beef stew is comfort food at its best- succulent beef, fork-tender vegetables, and a rich, flavorful broth will warm your belly and soul. As cooler months approach, we want to take the footwork out of looking for what hearty meal to make next with this diverse collection of savory beef stew recipes.
Whether you prefer a more classic approach or something lighter, you're sure to find a beef stew recipe or two that will fit into your dinner rotation.
Warm, hearty stews are truly the perfect meal; you can't go wrong with a one-pot dish that's loaded of flavor. Like our pozole rojo, stews are often made with pork, vegetarian stews like moong dal feature ingredients like lentils, and it's no secret that a great-tasting chicken stew hits the spot- try our recipe for kedjenou! But for the purpose of this article, we are ALL ABOUT THAT BEEF.
WHAT IS STEW?
Few meals are as satisfying as stew, often consisting of meat and vegetables slow-cooked in a gravy-like liquid. Like soup, stew comes together using different methods and flavors from all over the world; there is goulash, bourguignon, chicken stew, lamb stew, vegetarian stews, and of course beef stew.
WHAT YOU NEED TO MAKE BEEF STEW
While the recipes differ from place to place and person to person, the building blocks for beef stew recipes are often the same. Large chunks of tender beef cook with hearty vegetables, or beans in a flavorful liquid made with ingredients like broth, water wine, beer, and tomato juice.
TOOLS YOU WILL NEED TO MAKE THESE RECIPES
Dutch Oven: You can't go wrong investing in a high-quality Dutch oven. The one I use is from Lodge, but many prefer Le Creuset.
Slow Cooker: I don't use these as much as I used to (I was obsessed), but there is something nice and homey about dumping all your ingredients into a Crockpot and leaving it to cook for hours, as the tempting aroma circulates through the house.
Instant Pot: As I mentioned, I was a diehard slow cooker, but then the Instant Pot came along; this handy kitchen gadget might be one of the most-used kitchen tools in our home.
HOW TO COOK BEEF STEW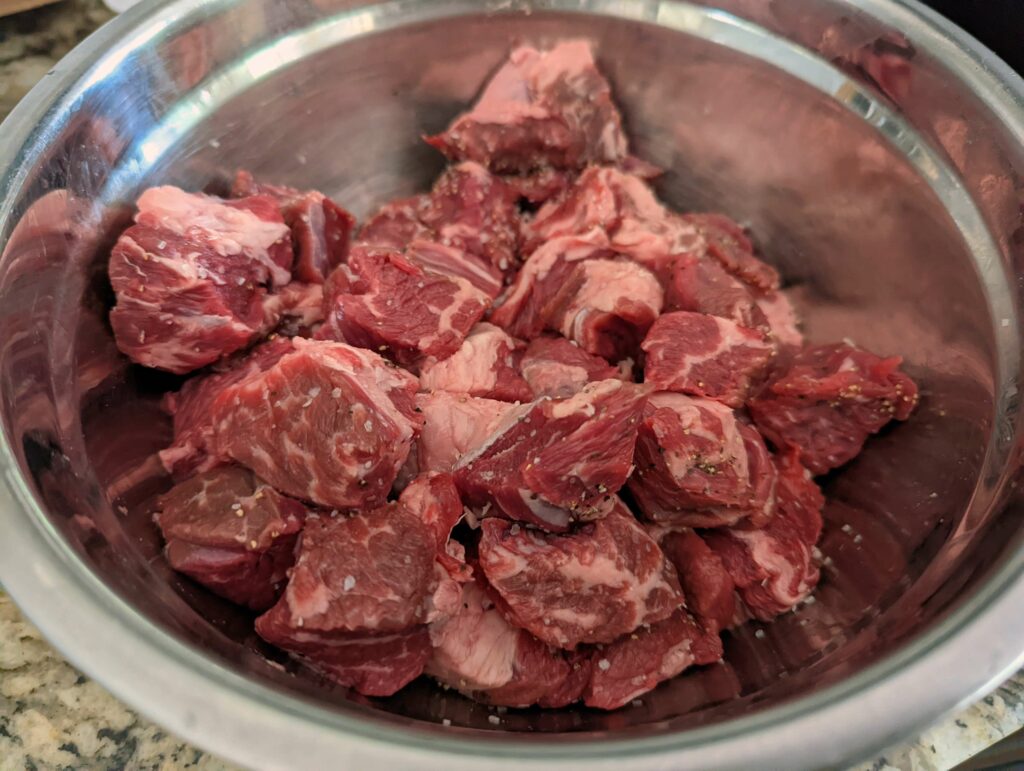 PREPARE THE BEEF – Cut and prepare the beef, then season the meat generously.
SEAR – Brown and caramelize the beef before adding the other ingredients; this helps seal the moisture and creates a depth of flavor for the stew; do this in batches and avoid overcrowding the pan.
DEGLAZE – Deglaze the pan to scrape up any of the stuck on bits left over from searing the beef.
SIMMER – Add the remaining ingredients and simmer on low for 2-3 hours or pressure-cook for at least an hour.
BEEF STEW RECIPES
1. AUSTRIAN BEEF STEW- RINDSGULASCH
Thick cuts of boneless short rib cook Viennese-style in a dark and flavorful gravy until the meat is fork-tender; it's everything you expect from rindsgulasch, otherwise called Austrian Beef Stew.
2. BEEF AND GUINNESS STEW WITH CRISPY ONIONS
This rich, melt-in-the-mouth Beef and Guinness Stew is made with Guinness and topped with crispy fried onions.
3. BEEF CARBONNADE
Beef Carbonnade Stew – beef, mustard, and onions slowly cook in beer for a tender, melt-in-you-mouth stew that you want to eat all year round!
4. BEEF CHEEK RAGU
This deliciously cozy Beef Cheek Ragu is rich, hearty, and packed with big, bold flavors. It features melt-in-your-mouth tender beef, simmered in a tomato sauce and served over fresh pappardelle pasta (or creamy mashed potatoes).
5. BEEF SHANK BULALO
Craving something hearty and warming that doesn't require much prep time? Learn how to make this easy Filipino Beef Bulalo made with beef shank.
6. BEST INSTANT POT BEEF STEW
Instant Pot Beef Stew is the ultimate comfort meal; tender beef pressure cooks in an umami-rich broth resulting in a savory stew that's ready in a little over an hour!
7. CHILI CON CARNE
Chili Con Carne means chili with meat, and this recipe doesn't hold back, consisting of tender beef, beans, and chilies for maximum flavor.
8. CUBAN ROPA VIEJA
Slow-cooked shredded beef and vegetables that resemble a pile of colorful rags is what Cubans call Ropa Vieja. From the Spanish term for "old clothes," this rich beef stew is one of Cuba's most popular and beloved dishes. A filling and hearty Cuban Ropa Vieja is perfect for a delicious dinner on a cold evening!
9. DUTCH OVEN MEDITERRANEAN BEEF STEW
This Mediterranean Beef Stew is the epitome of comfort food. With such delicious flavors, it is a one-pot meal, with cubes of beef simmered until meltingly tender in a rich tomato sauce with fresh vegetables and herbs.
10. EASY BEEF DAUBE
This Beef Daube, or French Beef Stew, is an elegant yet familiar dish! Make it quickly and easily in your Instant Pot or pressure cooker!
11. EASY BEEF STROGANOFF
Tender beef and a creamy mushroom gravy come together for this easy Beef Stroganoff we serve over buttery egg noodles.
12. INSTANT POT IRISH STEW
This hearty Irish Beef Stew is easily made in the Instant Pot! Guinness adds a unique richness and depth of flavor that can't be beat and the carrots, peas, mushrooms and potatoes make it filling and satisfying.
13. INSTANT POT GROUND BEEF STEW
This Instant Pot Ground Beef Stew with potatoes (also known as Poor Man's Stew) uses inexpensive ingredients for a hearty and delicious stew that will feed the whole family. This one-pot dish is super easy and quick to make, so it's great for those busy weekdays.
14. ITALIAN BEEF STEW – SPEZZATINO DO MANZO
Spezzatino is a classic Italian Beef Stew featuring comforting and delicious flavor; serve it with crusty bread or pasta- this stew is the perfect prep meal for any weeknight dinner.
15. MOROCCAN BEEF AND CHICKPEA STEW
Beef and Chickpea Stew is protein-rich and layered with warm spices to capture the savory taste of Morocco. Fragrant spices highlight the hearty chuck roast, chickpeas, and carrots in our mouth-watering stew.
16. SIMPLE BEEF STEW
Enjoy this classic and Simple Beef Stew made with quality ingredients. When it comes to the classics, it's all about technique- let me show you how!
17. SLOW COOKER BEEF AND ALE STEW
Tender pieces of beef and sumptuous ale gravy are the building blocks for Slow Cooker Beef and Ale Stew.
18. SLOW COOKER BEEF TRINCHADO
Beef Trinchado is a Spicy Beef stew and is popular at numerous Portuguese restaurants in South Africa. It's a spicy stew made with peri peri chilies; serve it traditionally with fresh french fries.
19. VIETNAMESE BEEF STEW
This Vietnamese Beef Stew is hearty and rich with authentic Vietnamese flavors like lemongrass, fish sauce, star anise, and five spice powder.
20. VIETNAMESE BEEF STEW WITH LEMONGRASS
Fragrant Vietnamese Beef Stew with lemongrass, also called Bo Kho is hearty and flavorful; serve it with banh mi or noodles.
---
WHAT TO SERVE WITH BEEF STEW?
Serve stew on its own or pour it over side dishes like mashed potatoes, rice, noodles, or mashed cauliflower to soak up all the tasty goodness of the broth. With tender beef stew recipes like those featured in this article, you also can't go wrong with any of these sides.
Baguette
Dinner Rolls
Caesar Salad
Biscuits
Corn Bread
Corn Muffins
Tortillas
Couscous
Roasted Potatoes
FREQUENTLY ASKED QUESTIONS
What's are the best cuts of beef to make stew?

The secret to making delicious stew is selecting the best cut of meat. Being honest, my answer to this question changes based on what stew I am preparing and what's on sale. Before I tell you what I recommend, I'll share what to avoid. You may feel tempted to buy pre-cut stew meat, don't! If you want to make these beef stew recipes and end up with tender, juicy beef, take the time to cut the meat on your own; it's worth it in the end.

Here are the cuts I recommend for stew:
• Chuck Roast
• Boneless Short Rib
• Beef Shank
• Brisket
• Oxtail
• Sirloin Flap

In addition to cut, consider selecting collagen-rich meat with a good amount of marbling when you're standing in front of the meat counter.


How do you make beef stew tender?

Preparing beef stew means setting aside the time for the beef to slow or pressure cook, allowing the collagen and fat to tenderize and render. Many factors can affect the meat's tenderness; here are some variables to consider.

• Cut beef the same size to ensure it cooks evenly.
• Sear the beef to lock in the moisture.
• The cut of meat can impact the tenderness of the beef; for this reason, I recommend avoiding pre-cut stew meat. I have never had a good experience preparing it.
YOU SHOULD ALSO TRY: