Shirazi Salad – Shirazi Salad contains a bright combination of fresh cucumbers, tomatoes, onions, herbs, and spices, tossed with tangy lemon juice and olive oil. The refreshing Persian side dish is versatile and uses simple ingredients, so it's a recipe you can whip together in no time and pair with any entree; don't be surprised if you don't empty the bowl in one sitting.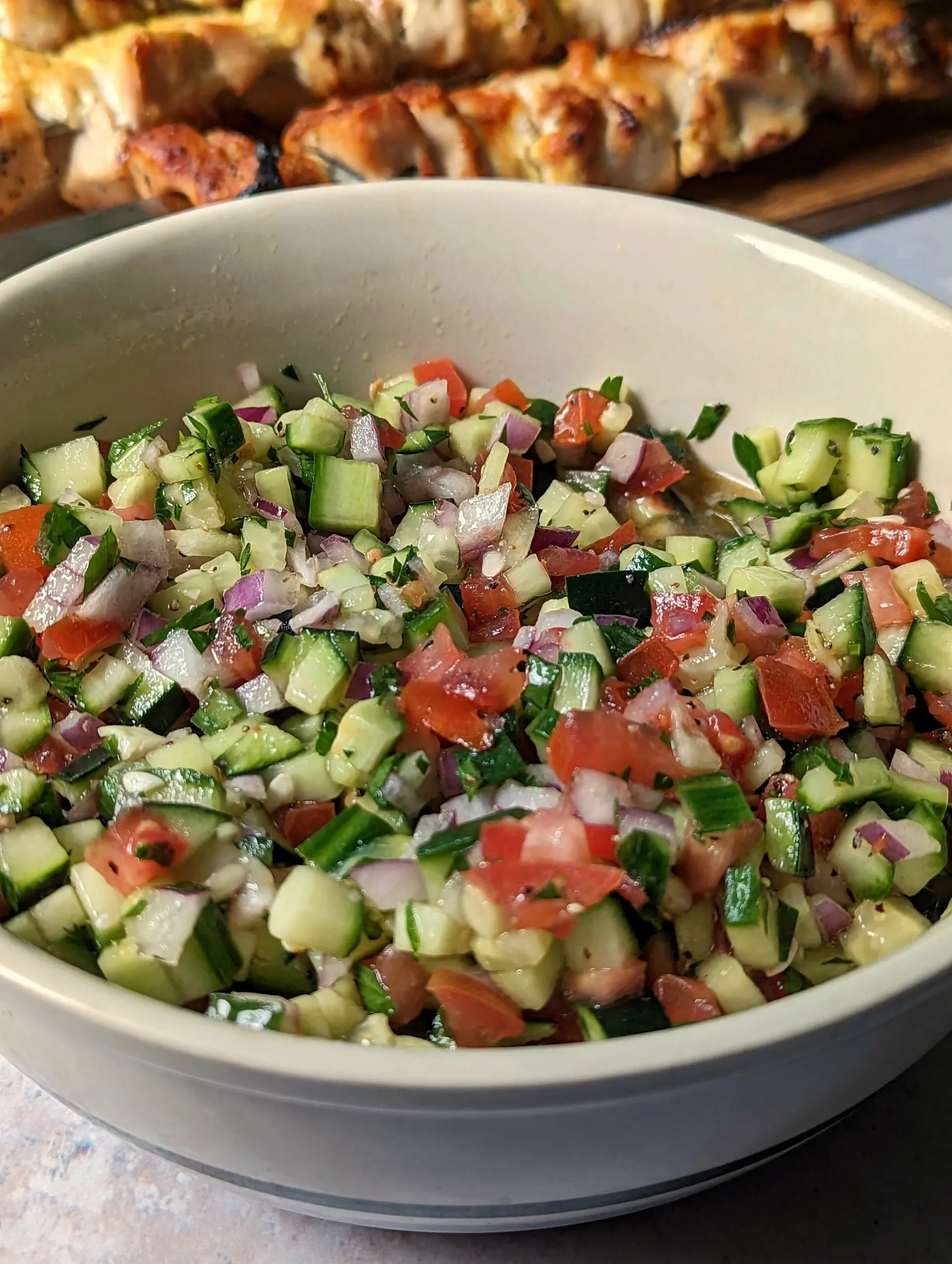 WHAT IS SHIRAZI SALAD?
Shirazi Salad or Salad-e Shriazi in the Farsi language originates from Shiraz in Iran. The famous Iranian salad, commonly served in restaurants, traditionally combines uniformly diced cucumbers, tomatoes, onions, and mint, seasoned with salt, and ab ghooreh (an unripe sour grape juice) for a tangy and refreshing salad.
SHIRAZI SALAD INGREDIENTS
Tomato: Roma tomatoes work best because they have less moisture than other varieties. If using other tomatoes, consider deseeding them before using them in the salad.
Cucumber: Persian cucumbers have the best crunch, which I love! English cucumbers are a great alternative.
Onion: I prefer red onions because the strong flavor complements the other ingredients; if you're concerned about the sharpness, massage salt into them before adding them to the salad. You can also replace red onions with shallots or white onions.
Parsley: Garnish with flat-leaf parsley or replace it with a more traditional mint, depending on your preference.
Lemon Juice: Lemon juice brightens the salad with a light citrusy flavor.
Olive Oil: Balance the dressing with high-quality olive oil.
Spices: Season the salad with a simple combination of salt and pepper.
SUBSTITUTIONS AND VARIATIONS
Add ingredients like olives, feta cheese, chickpeas, and white beans to change things up and meet your nutritional needs.
Replace the lemon juice in this recipe with sour grape extract or ab-e-ghoorah if you can find it.
A common seasoning added to the salad is sumac, a popular Middle Eastern spice made from ground-up sumac berries; this is the same floral spice we use to flavor Sumac Onions. I recommend adding no more than one teaspoon.
HOW TO MAKE SHIRAZI SALAD (PERSIAN CUCUMBER AND TOMATO SALAD)
The full recipe with measurements is in the recipe card below.
Toss and combine them with lemon juice, olive oil, salt, and black pepper.
EXPERT TIPS
Since this is a classic summer salad, use fresh vegetables and herbs whenever possible.
Aim for a uniform cut for all the vegetables to ensure a balanced combination of flavor and texture in each bite. Similar to our Vegetable Chopped Salad, Shirazi Salad is known for small diced vegetables, so they quickly absorb the dressing.
SEARCHING FOR MORE LIKE THIS?
If you love this recipe, try one of these Dinner favorites!
WHAT DO YOU SERVE WITH SHIRAZI SALAD?
Pair our simple Shirazi Salad recipe with meals like Joojeh Kabob, Koobideh Kabob, lamb chops, or alongside rice dishes, such as chelow, polo, or Saffron Rice.
If you want to serve the salad as a main dish, consider adding protein, like grilled chicken or chickpeas, to make it more filling. You can also prepare a quick light meal by pairing Shirazi Salad with lavash or pita. I love bringing the salad to get-togethers and potlucks alongside meals like BBQ Baked Chicken Legs; whatever you choose to serve it with, this salad is a perfect addition to your recipe rotation.
Other Tasty Pairings:
WHAT TO DO WITH THE LEFTOVERS
Refrigerate – Keep the salad in an airtight container in the refrigerator for up to 3 days.
FREQUENTLY ASKED QUESTIONS
Where is Shirazi Salad from?
Shirazi Salad comes from Shiraz, a city located in the southwestern region of Iran. The salad is named after the city and is known for its tangy flavor and colorful presentation.
Is Shirazi Salad healthy?
Filled with fresh vegetables and fragrant herbs, Salad-e Shriazi is dressed with lemon juice and heart-healthy olive oil- making this salad a perfect choice for anyone looking to maintain a healthy and balanced diet.
Should I peel cucumber for salad?
The decision to peel the cucumbers or not is entirely up to you. While some may prefer the crunchiness of the cucumber skin, others find it to be tough and slightly bitter.
MORE SALAD RECIPES:
⭐️ Rate the Recipe
Your feedback is valuable – it helps us improve and update our recipes, so we can provide delicious meals you'll love. You can leave a comment or rating below the recipes card, but feel free to share your adaptations or ask any questions. We cannot wait to hear about what you've made.
Shirazi Salad
Make refreshing Shirazi Salad with minimal ingredients; this easy Persian tomato cucumber salad pairs perfectly with grilled or roasted meats.
Ingredients
4

tomatoes,

finely diced

6

Persian cucumber,

finely diced

½

large

red onion,

finely diced

¼

cup

parsley,

flat leaf, finely chopped

3

tablespoons

lemon juice

3

tablespoons

olive oil

½

teaspoon

kosher salt

¼

teaspoon

black pepper
Instructions
Toss and combine them with lemon juice, olive oil, salt, and black pepper.
Notes
Preparation Tips:
Since this is a classic summer salad, use fresh vegetables and herbs whenever possible.
Aim for a uniform cut for all the vegetables to ensure a balanced combination of flavor and texture in each bite.
Nutrition Disclosure:
The nutritional information shown is an estimate provided by an online nutrition calculator. It should not be considered a substitute for professional advice.
Nutrition
Serving:
1
Serving
|
Calories:
99
kcal
|
Carbohydrates:
9
g
|
Protein:
1
g
|
Fat:
7
g
|
Saturated Fat:
1
g
|
Polyunsaturated Fat:
1
g
|
Monounsaturated Fat:
5
g
|
Sodium:
166
mg
|
Potassium:
890
mg
|
Fiber:
3
g
|
Sugar:
3
g
|
Vitamin A:
2
IU
|
Vitamin C:
32
mg
|
Calcium:
1
mg
|
Iron:
2
mg
Did you make this recipe?
Let me know how it turned out for you! Leave a comment below and follow @thejamilghar or tag #thejamilghar on Instagram!